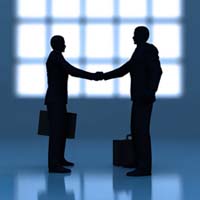 When approaching the closing phase of the selling process in a business-to-business situation, the salesperson should have a clear understanding of how they are going to close the deal. A structured but flexible plan will ensure that you don't miss out any key points and will ensure that any deal will satisfy the expectations of both parties.

Summarise the key points of your selling proposal with the key decision makers. Ideally, in business to business selling this should occur face to face and could be done at the end of your presentation to the client or in a specially arranged meeting sometime thereafter. Keep your summary concise and ensure that it reiterates the key benefits your product or service will provide to the customer. At the completion of your summary, ask a question such as "I think we've addressed all of the key points, how does it meet your expectations?" If such a question doesn't draw out any final objections from the customer, you can directly ask for the business. Confidence is important at this point. Consider asking a direct closing question such as "Are we ready to move forward?" or "We can start tomorrow, do you give us the go-ahead?"

If the sale is unsuccessful, the way you handle the situation will have a significant impact on your ability to do business with the customer in the future. Professionalism is important, so remember to thank the client and suggest that you hope your business will get an opportunity to work with them in the future.

Follow up

Regardless of whether you made the sale or not, you need to ensure that you follow-up with the client soon after a decision has been made.
If the sale was unsuccessful, a quick follow-up call or message is professional, allows you to thank the client for their consideration and can help you build your network of contacts.
If the sale was successful,
a follow-up call or meeting will allow you to confirm the details of the sale, thank the customer for the opportunity to do business with them and acquire any necessary administrative information.
Thank you for visiting ReplayBusiness.com and keep an eye out for a new article.
Did you like this article?
Subscribe to ReplayBusiness to receive all new postings straight to your inbox!
Tell us what you think!
We truly encourage your participation!
Contact us: http://www.replaybusiness.com/p/contact.html
This is how we all learn, share and acquire knowledge!
Twitter
Follow us and retweet to your followers:https://twitter.com/ReplayBusiness