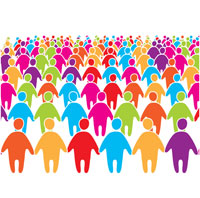 The vast majority of start-ups and SMEs find it very difficult to raise small amounts of capital from the traditional banking system and alternative lenders (i.e. venture capitalists) to develop their ideas and/or fuel existing operations (mainly due to strict lending requirements, such as provision of sufficient collateral that most start-ups do not qualify for).
Nowadays, the internet has allowed small businesses to reach investors on a far wider scale than before.
Crowdfunding is a way for capital-starved small entrepreneurs to receive financing that neither big investors nor lenders are willing or able to provide.
The idea behind crowdfunding is a relatively simple one.
You have a business idea or want to grow your business but need funds to make this happen,
Visit a crowdfunding platform,
Set your financial target,
Promote your project to anyone online or offline who you think might want to invest in it (i.e. family, friends, clients, suppliers, Twitter-followers, LinkedIn-connections, etc.),
Offer rewards (traditional crowdfunding) or a share of equity/revenue (commercial crowdfunding) in return for the investment,
Many individuals (the 'crowd') contributing in small sums of money.
When you reach your financial target, you get the money and start delivering on all those promises.
Good reasons to choose crowdfunding
Straightforward and less expensive source of finance than Venture Capitals
An alternative to bank finance which is difficult for small business to access
Create access to marketing
Expand and connect with communities
Crowdfunding has gained a lot of momentum in North America and Europe. Equity crowdfunding is currently legally permitted in UK, Netherlands, France, Belgium, Germany, Australia and now the US will soon be added to that list with the passing of the JOBS Act (Jumpstart Our Business Start-ups) in April 2012 (expected by 4Q-2013)
The growth of crowd funding is limited by the lack of clear regulation. Investors lack protection, and there's no universal template on how much information companies have to release. If scandals were to arise, it's likely the platform would collapse relatively quickly.
Waiting time to know if you've raised sufficient funds for your business
Risk of failure to gain investment
Multiple investors to communicate with
Risk of idea being copied
Fraud. Some people believe that crowdfunding represents a potential minefield that could help bad businesses get off the ground before they eventually fail, and in some cases could even trap unsophisticated investors in outright fraud.
Note that
crowdfunding

has its origins in the concept of

crowdsourcing

, which is the broader concept of an individual reaching a goal by receiving and leveraging small contributions from many parties.
Thank you for visiting ReplayBusiness.com
Did you like this article?
Subscribe to ReplayBusiness to receive all new postings straight to your inbox!
Tell us what you think!
We truly encourage your participation!
Contact us:
http://www.replaybusiness.com/p/contact.html
This is how we all learn, share and acquire knowledge!
Twitter